DDP project partners are committed and passionate organizations working with and for disabled people.
Each partner is unique in what they know and understand of disabled people and vulnerable groups, their needs and challenges. We support our partners by developing programmes together, finding the funding and by helping to put in place sound management, monitoring and financial systems, all of which strengthens the sense of ownership.
Partners are the lynchpin of DDP because without them we will not exist. We have worked with 22 partners, and our current partnerships are in Burundi, Ethiopia, India, Mozambique, Nepal and in the UK. Past partnerships have taken us to Angola, Bangladesh, and Cape Verde.
Partnership is a two-way and evolving process that brings with it mutual responsibilities and learning opportunities. Our partners share with us their particular circumstances and the problems they want to tackle, while we bring more than 20 years' experience to supporting these aspirations.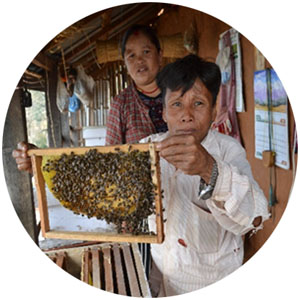 Nor Bahadur is a charming, gregarious person, of restricted growth, happily married to Tanka with whom he has a young son. Life was hard when Bahadur was growing up: as one of four brothers in a rural family, he was expected to pull more weight than was physically possible, and he felt that he was […]
"I am one of the first IT trainees at SHRUTI. I have always loved computers and editing photos as a hobby. I had some basic IT knowledge, as I took a computer course at high school. But I didn't understand very well at the time. Thanks to this training I have a lot more knowledge […]